Disney World News
10 Cute & Comfortable Costume Ideas for Mickey's Not so Scary Halloween Party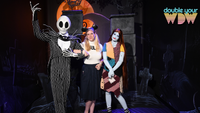 If you're planning on heading to Mickey's Not So Scary Halloween Party at the Magic Kingdom, you'll find that almost everyone is dressed in fun Disney inspired costumes.
When deciding on a costume you'll want to keep in mind the rules for costumes at the parks:
Keep it family friendly
Dress as characters, but don't sign autographs or pose for photos as that character
No weapons (real or fake)
Nothing dangerous or harmful to others on your costume
No full face masks (unless you are under 13. But even then it can't cover your entire face)
No capes
No costumes that drag on the ground
With that in mind I have come up with my top ten suggestions for amazing (and comfortable) costumes that you can wear around the parks. All of these costume ideas follow the rules for costumes at the parks, are comfortable for the Orlando heat, and are inspired by Disney characters. Plus they are totally original!
*Some links below contain affiliate links. This costs you nothing but we may get commission if you purchase
Minnie Mouse
If you want to dress as this classic character, you'll love this red and white polka dot dress and matching Minnie Mouse ears. This is by far the easiest of all of the costumes listed. And sometimes simplicity really can be perfection.
What I love about this dress is that it is a cotton dress. So it is lightweight and will breathe when you are walking around in the Orlando heat.
Get the Minnie Dress from Amazon here
Find Minnie Ears at ShopDisney
Daisy Duck
Maybe Minnie isn't your style... maybe you are more of a Daisy.
Pull off Daisy's look by grabbing these bright yellow leggings, lilac purple top, and white feather skirt. Lastly add this giant purple bow, and you'll be transformed in to Daisy Duck herself.
Get the Daisy leggings here
Get the Daisy skirt here
Get the Daisy shirt here
Get the Daisy bow here
Cruella DeVille (and a Dalmatian puppy)
A few years ago, when my daughter was still an infant, we dressed up in coordinating costumes. I was Cruella De Vil, and she was a sweet little Dalmatian puppy. Our costumes were a huge hit, and so easy to put together myself (to see us in our full costumes click here)
This one might be harder to do at the parks, but it's just so darn cute and fun that I had to include it.
Just pair your favorite comfortable black dress (or use my suggested cotton dress below to make sure you stay comfortable at the parks) with the accessories to create your Cruella look. 
Wigs can get HOT, so bring hair ties to keep the wig off of your neck if it gets too hot at the parks.
The puppy is created with a simple white onesie, adhesive circles, and puppy dog ears.
Get the black Cruella dress here
Get the Cruella wig here
Get the Cruella stole here
Get the Cruella gloves here
Get the puppy onesie here
Get the sticky dots to create the puppy spots here
Get the Dalmatian puppy tutu here
Get the polka dot leggings for puppy here
Get the puppy ears here
Cinderella
If you are looking to go as the classic Disney princess, you'll love this simple and stunning costume. This dress is light weight and extremely flowy (not to mention that it looks amazing when you twirl!). It will be comfortable for the parks, and you'll look perfect for photos in front of your castle.
Get the Cinderella dress here
Get the Cinderella headband here
Get the Cinderella gloves here
Steamboat Willie
If you want a fun spin on a Mickey Mouse costume, go black and white with Steamboat Willie, and wait for the compliments to come rolling in!
I suggest using your favorite grey shorts or skirt (or use my suggested skirt below), and pair it with a solid black t-shirt. Add a few of these accessories, and you'll be whistling your cares away.
Once you get your costume ready, finish off the look with some black lipstick to really bring the black and white look to life.
Get the Steamboat Willie shirt here
Get the Steamboat Willie skirt here
Get the Steamboat Willie hat and ears here
Get the Steamboat Willie gloves here
Get the Steamboat Willie black lipstick here
Ariel from The Little Mermaid
If you love Ariel as much as I do, you will love these mermaid leggings. They are incredibly fun, and you'll be super comfortable walking around in them.
If you decide to wear the red wig, keep in mind that wigs can get hot. So you may want to bring a few hair ties along as well so you can pull the wig off of your neck should you get too hot.
Finish up the look with an adorable Dinglehopper fork bracelet.
Get the Ariel leggings here
Get the Ariel shirt here
Get the Ariel wig here
Get the fork bracelet here
Darla from Finding Nemo
If you are looking for something fun and original, dress up as Darla from Finding Nemo.
Darla is the little girl who terrorizes the fish in the movie. Pair Darla's signature Rock N Roll shirt with her yellow plaid shirt, and pull your hair in to side pig tails to complete the look.
Since you can't exactly carry a bag of water around the parks, wear these amazing bag of fish earrings and carry this Nemo plush. You'll be the hit of the party
Get the Darla shirt here
Get the Darla skirt here
Get the earrings here
Get the Nemo plush here
The Genie from Aladdin
Dressing as the Genie from Aladdin can be fun and stylish!
Pair this dark blue skater skirt with the light blue scoop neck top. Add this red belt with gold detailing and gold cuffs. Finally pull your hair up in a high pony tail to complete the look, and soon people will be asking you to grant their every wish!
Get the Genie skirt here
Get the Genie shirt here
Get the Genie belt here
Get the Genie cuffs here
Mousketeer
If you're looking to be the leader of the club this Halloween, going as a Mousketeer is cute and fairly easy.
Just pair a plain white shirt with this full skirt. You can either print your name on the shirt, or get these easy to use iron on letters to spell out your name on the shirt.
Finish the look with your Mickey Mouseketeer hat that you can get at the link below, or while you are in the parks.
Get the Mouseketeer shirt here
Get the Mouseketeer skirt here
Get the Mouseketeer iron on letters here
Find a Mouseketeer Hat on ShopDisney
Winnie the Pooh
Oh Bother! Halloween costumes can be hard to put together. But not this simple and adorable Winnie the Pooh inspired look.
Start with this simple red shirt and yellow skirt. Add your Pooh ears and this Honey Pot purse, and you'll have the most huggable look at the party.
Get the Winnie the Pooh shirt here
Get the Winnie the Pooh skirt here
Get the Winnie the Pooh ears here
Get the Winnie the Pooh purse here
Ready to book your Halloween trip?
We can help! Get your free no obligation vacation quote here.
Still confused or need help?
I am happy to help! Contact me.
See you at the parks,
-Julie
Get Your Free Disney World Vacation Quote Today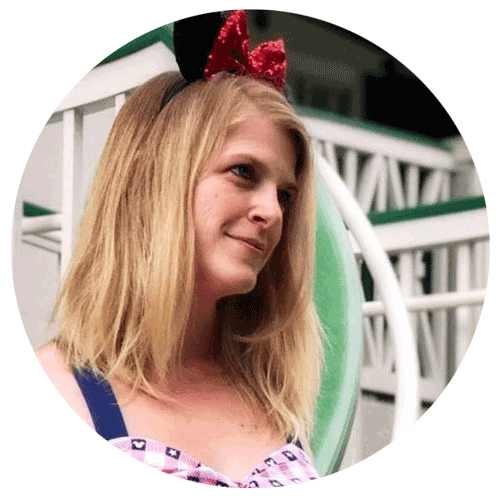 Are you ready to book your Disney World vacation?
We can book rooms, tickets, dining, and FastPass+, and even watch out for discounts that could save you thousands. All at no charge to you.
Request a Free Quote
Recommended for You