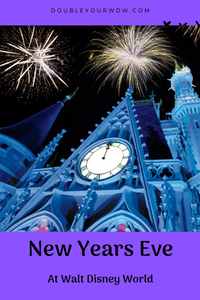 If you're looking to celebrate New Years Eve at Disney World, you'll have several options to ring in the new year.
Here are the options for ringing in 2020 at Walt Disney World:
Park Celebration Options
The Magic Kingdom
At the Magic Kingdom you know they know how to do fireworks, and they don't disappoint when it comes to New Years Eve celebrations. On New Years Eve you'll find 2 fireworks shows. The Fantasy in the Sky Fireworks first showing is at 6:30pm and the second starting at 11:50pm.
Frontierland and Tomorrowland also host kid friendly dance parties from 7pm - midnight, usually on both December 30 and December 31. You'll find DJs playing Radio Disney hits, and you might even see a character or two.
Some things to keep in mind with this park:
The Magic Kingdom will be VERY crowded this day. So plan accordingly, and prepare for the park to reach capacity.
The Magic Kingdom does not serve alcohol outside of table service restaurants. So there will be no champaign toast
Epcot
At Epcot you can expect a special holiday version of the nighttime show to ring in the New Year. While the park will be busy, Epcot has the biggest footprint of all of the parks. Plus the circular layout of World Showcase Lagoon makes it easier to see the show even when the parks are busy.
If you are looking for a special New Years Eve meal you can make reservations at Monsieur Paul. They are offering a special multi course meal, with times at 12pm, 12:30pm, 2pm, 2:30pm, 6pm, and 6:30pm.
The cost for this meal is $111 per person.
Hollywood Studios
Hollywood Studios has yet to announce any specific events happening for New Years Eve. But in the past we've seen Jingle Bell Jingle Bam and more low key New Years Eve offerings. Keep an eye on this page for updates as they are announced.
Animal Kingdom
If you have kids who can't stay up until midnight, or you don't want to deal with the massive crowds at the other parks, you might want to plan a visit to Animal Kingdom. Because of the live animals at this park, Disney doesn't plan New Years celebrations for Animal Kingdom. You can expect this park to close earlier than the others.
New this year at Animal Kingdom will be a pin trading event at the park. There will be over 90 pins at designated trading boards in the park. You'll find them in the lands of Asia, Africa, DinoLand U.S.A., and Discovery Island.  The display boards will have pins from Disney parks around the world and also Hidden Mickey pins. 
You'll be given only ONE minute to trade TWO Disney pins at these select locations. So you'll have to hunt fast. And the trading boards are only open at these designated times:
1:00 – 2:00 p.m.
2:45 – 3:45 p.m.
5:45 – 6:45 p.m.
7:30 – 8:30 p.m. 
Resort Celebrations
Disney Countdown to Midnight at The Contemporary
This party, held in the Fantasia Ballroom of the Contemporary Resort, will feature music, dancing, dining, and more. There will be a DJ and you'll ring in the New Year with a viewing of the Magic Kingdom Fireworks from the resort.
Disney chefs will be serving barbecue-spiced wild Florida shrimp and grits with cherrywood-smoked bacon, pan-seared sablefish with leek fondue and cassis red wine reduction. You'll find amazing desserts like white-chocolate-raspberry crème brulee and a Florida Key lime bar with toasted meringue, raspberry and passion fruit.
Guests must be 21 and over to consume alcoholic, and the party runs from 8 PM to 12:15 AM. The cost is $299 per guest (tax and gratuity included). Get more information on this party here.
Disney Ink and Paint Club at The Contemporary
The VIP Lounge at the Ink and Paint Club will offer an add on to the Disney Countdown to Midnight Party above.
You'll have a chance to meet Mickey and Minnie Mouse, enjoy cocktails, champaign, and cordials, and enjoy music from a pianist.
Tickets for the Disney Countdown to Midnight plus Ink and Paint Club are $499. More ticket information can be found here.
Pixar Party: A New Year Celebration at The Contemporary
The second floor of the Contemporary Resort Convention Center will host this party featuring characters from Up!, Toy Story, Inside Out, Monsters, Inc, and The Incredibles.
This is a family friendly event, and will offer face painting, balloon art, a DJ playing Radio Disney hits, and more kid friendly entertainment.
Tickets are $199 per person (for any age). Get more information on tickets here.
Feliz And Nuevo: A New Year's Eve Celebration at Coronado Springs
The brand new Grand Destino Tower at The Coronado Springs Resort will host Feliz Ano Nuevo at Toledo Tapas Steak and Seafood. This rooftop restaurant will feature a savory Spanish inspired New Years menu.
There will be an electric flamenco guitarist and DJ in the Dahlia Lounge to help count down to 2020.
Mezzanotte at Topolino's: An Italian Masquerade
This special New Years Eve event will be taking place at the rooftop restaurant in the brand new Riviera Resort.
The celebration will feature European inspired buffets, food stations, artisan cheeses, house made breads, hand made pasta, European desserts, and much more.
Guests will countdown to 2020 on the rooftop terrace, where they will be able to see the fireworks spectaculars at both Epcot and Hollywood Studios.
This party runs from 7:30pm until 12:15am, and is $550 per person. You can make reservations by calling 407-WDW-DINE.
The Flying Fish on The Boardwalk
If you are looking to celebrate on the Boardwalk, you can enjoy a special New Years Menu at The Flying Fish restaurant. This restaurant offers two meal times. An early dinner starting at 5pm, or a later dinner starting at 8:30pm.
This prix fixe meal will cost $122 per adult and $64 per child for the early dinner, and $154 per adult and $84 per child for the late dinner.
Atlantic Dance Hall on The Boardwalk
If you are looking for more a party scene, you can spend the evening at the Atlantic Dance Hall on Disney's Boardwalk. Here you'll dance to a DJ, have lite snack, 2 complimentary drinks, and a champaign toast at midnight.
This party costs $75 per person, and is only available for guests 21 and older.
Disney Springs Celebrations
If you want to still feel the Disney magic on New Years Eve, but you don't want to brave the crowds at the parks, you might want to head to Disney Springs.
While Disney doesn't have any specific celebrations happening, you can definitely have an amazing meal and enjoy a countdown on the water.
For help booking your New Years Eve celebration at Disney World get your free quote here.
Ready to Ring in the New Year?
Get a free quote here!
Still confused or need help?
I am happy to help! Contact me.
See you at the parks,
-Julie
Get Your Free Disney World Vacation Quote Today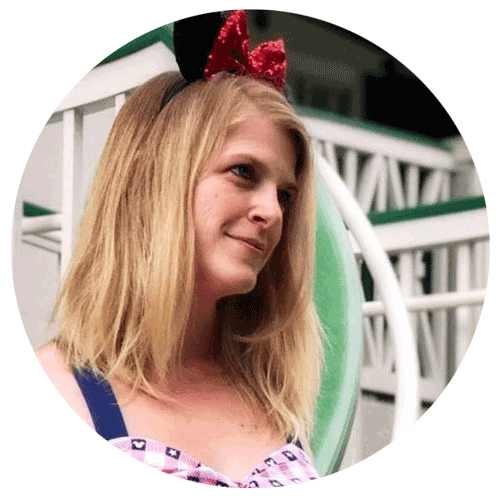 Are you ready to book your Disney World vacation?
We can book rooms, tickets, dining, and FastPass+, and even watch out for discounts that could save you thousands. All at no charge to you.
Request a Free Quote
Recommended for You