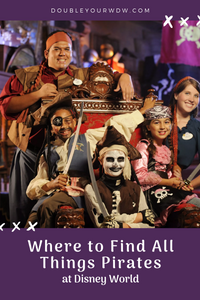 Disney World may be known for it's many Princesses, but not everyone wants sparkle and glitter. Some of us want to swashbuckle with Pirates!
And Disney offers several fun pirate experiences at the parks.
Find out where to find all things Pirates at Disney World.
Magic Kingdom
Transform in to a pirate, an empress or even a mermaid at The Pirates League. 
Packages start at only $18.95, and unlike Bibbidi Bobbidi Boutique there is no age cap. As long as you are over the age of 3 you are welcome for a makeover.
You'll be assigned a Pirate name, and taught the ways of the seven seas by one of Jack Sparrows own Pirate Masters.
You'll want to make reservations ahead of time for this experience. You can book 180 days out by calling (407) 939-2739.
You can read my full review of this experience, and get more detailed pricing and information here.
The Pirates League Store
Here you'll find fun Pirate gear, empress attire, and mermaid accessories. If you are looking to grab some amazing pirate souvenirs this is your stop.
You'll find it in Adventureland in the Magic Kingdom by the Pirates of the Caribbean ride.
Pirates of the Caribbean
This classic ride is an obvious addition to any pirate fan's itinerary.
This slow boat ride takes you on a pirate journey with the iconic pirate song that you'll be singing the rest of the day (at least until you ride Small World).
Peter Pan's Flight
Another classic ride that features Peter Pan, Wendy and the Lost Boys, and of course... Captain Hook.
This slow moving dark ride is takes you through scenes from the movie Peter Pan. If you're planning on hitting this ride you'll want to consider using a FastPass or getting to the parks early.
Meet Captain Jack Sparrow
Meet everyone's favorite pirate in Fantasyland.
You'll find him located in Adventureland at the Pirates of the Caribbean Courtyard.
Check the My Disney Experience app for times.
A Pirates Adventure: Treasures of the Seven Seas
This free scavenger hunts starts in Adventureland. You'll pick up a talisman that help you to read a treasure map.
You'll be given 5 missions (they take about 20 minutes each to complete), and once completed you'll receive a card signed by Jack Sparrow himself.
Tortuga Tavern
This is a seasonal pirate themed quick service restaurant that has wonderful lunch and dinner options. Since it is seasonal, it wont be open all of the time, but when it is you can expect to find Mexican food options in an open air seating area.
Festival of Fantasy Parade
During the Festival of Fantasy Parade at the Magic Kingdom, you'll see Captain Hook make his way down Main Street USA (along with Peter Pan and Wendy and Tinker Bell)
This parade takes place daily at either 2 or 3pm. Check your My Disney Experience app for exact times during your trip.
Hollywood Studios
Hollywood and Vine
The restaurant Hollywood and Vine features a Disney Junior Character Breakfast. Here you'll meet some of your favorite Disney Junior characters, including Jake from Jake and the Neverland Pirates.
This restaurant even offers a breakfast before park opening!
Resorts
Beach Club
Captain Hook's Pirate Crew is a Kid's Club experience that is located at The Beach Club Resort. Kids will have a blast searching for treasure, sailing around Crescent Lake, and meeting Captain Hook himself.
This adventure is perfect for your little pirates
Hours are 5-8:30pm
The cost is $55 per child
Kids 4-12 are welcome (grownups not allowed!)
Tickets are $55 and you can reserve a spot for your child by calling (407) 824-5437
You can read a full review of this experience here.
If a fun pirate themed room sounds like something you and your kids might enjoy, you'll want to check out the Caribbean Beach Resort.
They have these amazing pirate themed rooms, and even have a pirate themed splash pool.
For more on this resort, see my full article on Caribbean Beach Resort here.
Disney Floral and Gifts
If you are looking to plan a pirate surprise for someone in your group, you may want to head to Disney Floral and Gifts to reserve an in room surprise.
You can have a pirate themed gift basket delivered to your room, you can have your room decorated in a full pirate theme, and more.
While these options may seem pricy at first, it is a fantastic alternative to your souvenir budget.
Want a Free Quote on Your Pirate Vacation?
Get a rate quote here.
Still Confused or Need Help?
I am happy to help! Contact me.
See you at the parks,
-Julie
Get Your Free Disney World Vacation Quote Today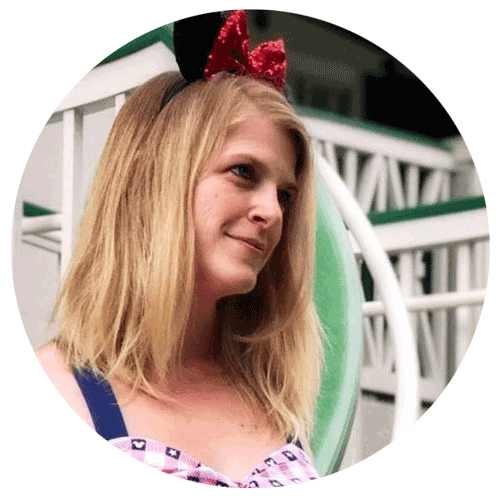 Are you ready to book your Disney World vacation?
We can book rooms, tickets, dining, and FastPass+, and even watch out for discounts that could save you thousands. All at no charge to you.
Request a Free Quote
Recommended for You