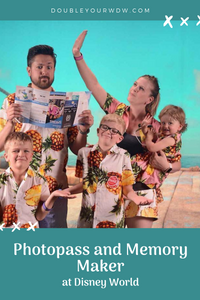 Memory Maker is a popular add on to your Disney World vacation. But there is a lot of confusion about what exactly Memory Maker is, and what is included in the price.
There is even more confusion when it comes to what the difference is between Photopass and Memory Maker. Here I'll break down what these terms mean, what you get for the cost, and how it works.
Photopass vs Memory Maker
These terms are often used interchangeably. So what is the difference between Photo Pass and Memory Maker?
Photopass is the photography system that Disney uses. It includes all photographers you'll find around the parks and Disney Springs. It includes the photos that you can get on certain rides. It also includes any photo studios at the parks.
Anyone can use photopass. It doesn't matter if you are staying at a Disney Resort, or if you are at a hotel off property. Anybody can use the photopass system.
Memory Maker is a package that you can purchase when you are staying at a Disney resort.
You can purchase Memory Maker before your trip for $169, or you can purchase it during your trip for $199.
If you have an annual pass, you can purchase Memory Maker as an add on to your pass for $99.
When you purchase this package you are given the rights to all of the digital photopass photos taken of you during your trip. Your My Disney Experience account will automatically be updated with photos taken by photopass photographers, ride photos, and ride videos from your trip.
How Does Photopass Work?
Have a photopass photographer capture a photo of you and your group (don't worry.. you'll see them all over the park. And the My Disney Experience app can help you find photographers as well).
Once they take the photo, they will scan your Magic Band.
Don't have a magic band? The photographer can scan your park ticket card, or your ticket on your phone, as long as it is linked to your My Disney Experience account.
Don't have a My Disney Experience account? No problem. The photographer can give you a photo card so that you can look up your photos later.
Your photos will appear online on the photopass and My Disney Experience website within 24 hours (although it is usually within minutes).
If you have purchased Memory Maker you will have immediate access to your photos.
If you did not purchase Memory Maker you'll be able to look through your photos and purchase the ones you like. Prices vary on the photos, but you can expect to pay around $15-$20 per photo.
Ride Photos and Videos
If you have a Magic Band and are on a ride that takes your photo, you will automatically see that photo in your account.
The Magic Bands are pretty good at detecting where you are seated and getting an accurate picture on the rides, but if you are nervous about missing a great ride photo you can always scan your band when you exit the ride to be sure you get that photo.
The rides that take your pictures are:
Magic Kingdom
Space Mountain
Splash Mountain
Buzz Lightyear
Pirates of the Caribbean
Seven Dwarf's Mine Train
Haunted Mansion
Epcot
Test Track
Frozen Ever After
Animal Kingdom
Expedition Everest
Dinosaur
Hollywood Studios
Tower of Terror
Rock'n Rollercoaster
Memory Maker Perks
There are a few fun bonuses you only get if you have the Memory Maker package.
A couple of rides offer the cool perk of getting a movie of your ride experience. Here is my ride with my son on Seven Dwarf's Mine Train:
The rides that offer videos (included only with Memory Maker purchase) are Seven Dwarf's Mine Train and Tower of Terror.
Magic Shots are another fun perk. This is where the photopass photographer can add characters or fun graphics to your photo. The photographer might ask you to pose a certain way so that he or she can add the fun image to your photo after it is taken. Not all photographers can do this, so if this sounds like something you are interested in you'll want to ask your photographer.
Other Places to Find Photopass Photographers
You'll find Photopass photographers at many character meets, and around the parks. But you can also find photographers at certain restaurants, resorts, boutiques, and photo studios.
Restaurants
1900 Park Fare
Akershus
Be Our Guest (for dinner only)
Chef Mickey's
Cinderella's Royal Table
Hoop Dee Doo Revue
Ohana
Spirit of Aloha Dinner Show
Tusker House
Storybook Dining at Artist Point (for dinner only)
Just keep in mind that photographers will not be photographing you while you are at your table. These photos are usually taken before you are seated. For example, you'll get a photo with Cinderella at Cinderella's Royal Table before you are seated. When you meet the other princesses as you dine, you'll have to take your own photos with your phone or camera.
Other photo opportunities (this list is not complete as photographers often pop up at places not advertised)
Bibbidi Bobbidi Boutique
Harmony Barber Shop
Enchanted Tales with Belle
Jedi Training
Memory Maker One Day
Disney now offers a one day Memory Maker option for $69. If you trip is short this might be a great option for you.
If you haven't purchased Memory Maker ahead of time this option will show up once you start having photos taken by photopass photographers.
Capture Your Moment Package
If you are looking for a more personalized experience, you can have a photopass photographer take photos with you and your family with a private photo session.
The cost is $50 and will include a 20 minute photo session with a photopass photographer. All photo sessions offer an iconic view of Magic Kingdom and a view of Cinderella's Castle. If you want more time or multiple photo locations you can book back to back sessions for $100 and get 2 photo locations and 40 minutes with your photographer.
This is a great way to capture a birthday, honeymoon celebration, proposal, or any reason you might be celebrating at Disney World!
You can book this package by calling (407) 939-7758.
Photos are not included with the $50 photographer fee, but are included with your Memory Maker package. So this would be best used as an upgrade to that package rather than a stand alone purchase.
Sharing Memory Maker
If you are traveling with a large group of people only ONE person needs to purchase memory maker. The person who purchases it will be the one with download access, but your entire group will be able to take photos and have them appear in the account of the person who purchased.
To do this you must do the following:
Have one person purchase Memory Maker
Link all people in your group in My Disney Experience as Friends and Family
Go in to each person in your group and make sure that you check the "allow sharing" option
What if I don't Want to Pay for Memory Maker?
Don't worry. I understand that this is not in everyone's budget. If you still want family photos without losing one member of your group in the photo because they are always the photographer, you can still have the photopass photographer take your photo with your personal camera or phone.
Just ask the photographer to use your phone or camera, and they will happily oblige.
Still Confused or Need Help?
I am happy to help! Contact me.
Want a Quote for Your Disney Vacation?
Get that here.
See you at the parks,
-Julie
Get Your Free Disney World Vacation Quote Today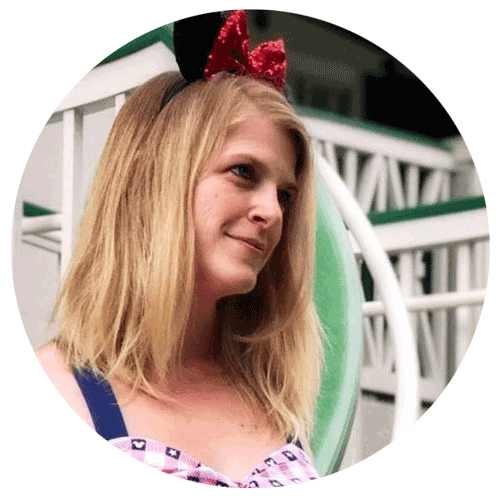 Are you ready to book your Disney World vacation?
We can book rooms, tickets, dining, and FastPass+, and even watch out for discounts that could save you thousands. All at no charge to you.
Request a Free Quote
Recommended for You