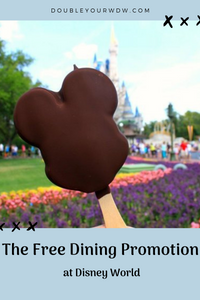 If there is one major highlight to my Disney World vacation, it is definitely the food.
While there are seemingly endless and amazing food options at Disney World, that food comes with a hefty price tag. If you eat at table service restaurants you could easily budget about 1/3 of your vacation cost towards food.
So it's easy to see why the Free Dining promotion is one of the most popular promotions offered. But what is the dining plan, and what is included with it? When is this promotion offered?
What is The Dining Plan?
Disney offers multiple dining plans as part of a package with your vacation. You can get all of the specifics here on the dining plan. But here are the basics:
There are three different dining plans offered by Disney:
Quick Service Plan

2 Quick Service credits, 2 Snack credits

Regular Dining Plan

1 Quick Service credit, 1 Table Service credit, 2 Snack credits

Deluxe Dining Plan

3 credits for Quick Service OR Table Service, 2 Snack credits
When Can I Book The Free Dining Promotion?
For 2019 Disney threw us a curve ball and offered the free dining plan early. In previous years, this promotion was released in April and was available in the fall. They then offered a second round of free dining that opened up in July for dates over the holidays.
This year Disney opened up booking for this package starting on January 2, 2019 through February 10, 2019, and then a second wave of free dining opened up July 16, 2019.
What Are The Free Dining Dates For The 2019 Promotion?
As long as you check in during this period, you'll be eligible for free dining:
July 5, 2019 - September 30, 2019 (for the first wave of free dining)

September 1 - September 18, 2019

November 17 - November 27, 2019

December 8 - December 23, 2019
What Do I Get With This Promotion?
As with any promotion not all rooms are eligible. Here is a list of the participating resorts, and which dining plan you'll receive if you book that resort:
Deluxe Villa Resorts come with the REGULAR DINING PLAN:
Bay Lake Tower at Disney's Contemporary Resort
Boulder Ridge Villas at Disney's Wilderness Lodge
Copper Creek Villas & Cabins at Disney's Wilderness Lodge
Boulder Ridge Villas at Disney's Wilderness Lodge
Disney's Animal Kingdom Villas - Jambo House
Disney's Animal Kingdom Villas - Kidani Village
Disney's Beach Club Villas
Disney's BoardWalk Villas
Disney's Old Key West Resort
Disney's Polynesian Villas & Bungalows
Disney's Saratoga Springs Resort & Spa
Deluxe Resorts come with the REGULAR DINING PLAN:
Disney's Animal Kingdom Lodge
Disney's Beach Club Resort
Disney's BoardWalk Inn
Disney's Contemporary Resort
Disney's Grand Floridian Resort & Spa
Disney's Polynesian Village Resort
Disney's Wilderness Lodge
Disney's Yacht Club Resort
Moderate resorts come with the QUICK SERVICE DINING PLAN:
Disney's Caribbean Beach Resort
Disney's Coronado Springs Resort
Disney's Port Orleans Resort - Riverside
Value Resorts come with the QUICK SERVICE DINING PLAN:
Disney's All-Star Music Resort
Disney's All-Star Sports Resort
Disney's Art of Animation Resort - Family Suites only
Disney's Pop Century Resort
What Are The Stay Requirements?
To take advantage of this promotion you must book one of the resorts listed above for a 5 night/6 day vacation, and you must purchase Park Hopper or Park Hopper Plus tickets.
What If I Want A Larger Dining Plan?
The Value and Moderate Resorts offer the Quick Service dining plan for free, and the Deluxe and Deluxe Villa Resorts offer the Regular Dining plan. If you want a larger dining plan you can upgrade.
You can upgrade from Quick Service to Regular Dining for about $22.99 per adult and $4 per child per night. If you prefer Deluxe dining you can upgrade to the Deluxe Dining Plan for $63.75 per adult and $19.71 per child per night. 
If you are staying at a Deluxe resort, and you want to upgrade to the Deluxe Dining Plan, you can do that for $40.76 per adult and $15.51 per child per night.
How Can I Make Sure I Get This Offer?
The free dining promotion is hugely popular, and can be difficult to grab. But it isn't impossible!
In past years, this promotion was held in the fall. With Star Wars: Galaxy's Edge opening in Fall, it makes sense that Disney would want to offer this promotion for summer crowds this year. Predicting this year's promotion was difficult because of this, but usually we have an idea of when discounts will be offered based on past promotions.
One thing you can do is watch historical dates on when this promotion has been released and available. You can find that information here.
If you think a promotion is going to be released you'll want to be up and ready to book on your computer as early as possible. Promotions are often released in the middle of night, so being ready early in the morning will put you ahead of the pack.
Another great way to make sure you get this promotion (or any promotion) is to use a travel agent. Often times Disney travel agents know about these discounts before the general public. So they are up early and ready to book or modify your reservation to make sure you get this promotion.
If are interested in getting a quote on a trip with free dining, you can get in touch with my Disney travel agent here.
Bottom Line
If you are interested in this promotion you'll want to act fast! This is Disney's most popular promotion.
Still confused or need help?
I am happy to help! Contact me.
Want a quote for your Disney Vacation? Get that here.
See you at the parks,
-Julie
Get Your Free Disney World Vacation Quote Today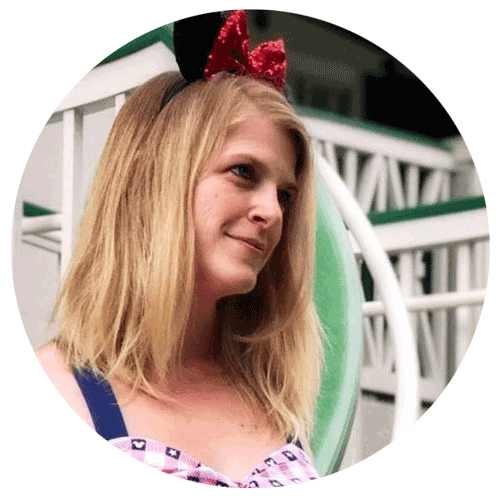 Are you ready to book your Disney World vacation?
We can book rooms, tickets, dining, and FastPass+, and even watch out for discounts that could save you thousands. All at no charge to you.
Request a Free Quote
Recommended for You