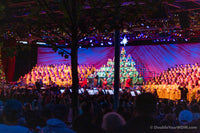 Epcot International Festival of the Holidays (formerly Holidays Around the World) is an annual event that takes place at Epcot World Showcase. This year the festival runs from November 25 through December 30, and the festival is included with the price of your admission.
This festival features food, drinks, and performers from around the world, and more. Here is what you can expect if you visit Epcot during the holidays:
This is an incredibly popular show held at the American Gardens Theater in the American section of the World Showcase. The show consists of a choir and 50-piece orchestra. A celebrity narrator then reads The Christmas Story.
The show is free of charge, but because it is an extremely popular show, you will definitely want to plan ahead if you would like to attend. Lines start hours ahead of time for seating, and even if you are in line you are not guaranteed a seat.
The best way to make sure you get seating for this show is to book a Candlelight Dining Package. You have the option of booking  lunch or dinner packages that include your meal guaranteed seats for one of the 3 shows on that day. 
Reservations can be made on Disney's website, and will be posted closer to the festival date.
One of the reasons this show has such a large draw is the celebrity narrators who participate. The 2022 line up is as follows:
Simu Liu
November 25 and 26, 2022
Edward James Olmos
November 27 through 29, 2022
Raul Esparza
November 30 and December 1, 2022
Whoopi Goldberg
December 2 and December 3, 2022
Isabella Rossellini
December 4 through December 6, 2022
Daymond John
December 7 and December 9, 2022
Josh Gad
December 10 through December 12, 2022
Gloria Estefan
December 13 and December 14, 2022
Neil Patrick Harris
December 15 through December 18, 2022
Mariska Hargitay
December 19 and December 20, 2022
Cal Ripken Jr.
December 21 through December 23, 2022
Marie Osmond
December 24 through December 26, 2022
Courtney Vance
December 27 and December 28, 2022
Angela Bassett
December 29 and December 30, 2022
Read more about the Candlelight Processional here.
Shopping
The Festival will offer holiday merchandise throughout the parks. This year the merchandise will feature Olaf and Sven from the Frozen movies. You can find these limited items at the Creations Shop, Port of Entry, and other World Showcase stores. The collection includes:
Adult Sherpa Spirit Jersey
Adult tee
Youth tee
Beanie
Throw
Mug
Ornament
Candy dish
Water bottle
Cookie jar
MagicBand
Festival logo trading pin
Disney Vacation Club Member trading pin
Annual Passholder trading pin
Annual Passholder adult pullover hoodie
Olaf's Holiday Tradition Expedition Scavenger Hunt
Kids can go on a scavenger hunt to find holiday traditions that Olaf has gathered (watch Olaf's Frozen Adventure to get the joke here). You can purchase your scavenger hunt map and stickers for $9.99 plus tax from Port of Entry, Creations Shop, and World Traveler in EPCOT.
You'll use the stickers on your map to mark the tradition that Olaf has found in each Pavilion of World Showcase. When you complete your expedition you can bring the map to Disney Traders, Creation Shop, or World Traveler to redeem your map for a gift.
Holiday Kitchens
It wouldn't be a festival at Epcot without amazing food and drinks around every corner. During the festival you will find themed Holiday Kitchens serving special holiday themed treats  and drinks from different countries around the world.
The kitchens for 2021 are:
American Holiday Table – American Adventure Pavilion
Enjoy a seasonal salute—dig into traditional dishes reminiscent of grandma's cooking at the American Adventure Pavilion.
Bavaria Holiday Kitchen – Germany Pavilion
Willkommen—help yourself to heartwarming holiday dishes and refreshing beverages at the Germany Pavilion.
Chestnuts & Good Cheer Holiday Kitchen – Near Port of Entry
Join in on the festivities when you visit this new location offering cinnamon-glazed nuts and holiday beverages.
The Donut Box – Near Test Track Presented by Chevrolet
Enjoy a classic dessert dressed up in a little holiday cheer when you try one of our seasonally-themed donuts!
Holiday Hearth Desserts – Near Port of Entry
Discover the hearth you'll call home, with holly jolly desserts, hot cocoa and so much more.
Holiday Sweets & Treats – Near Port of Entry
Rock around the Christmas tree with tasty desserts and festive sips sure to top the "nice" list.
L'Chaim! Holiday Kitchen – Between Morocco and France Pavilions
Propose a toast to life—sink your teeth into classic deli noshes with a side of New York flair.
Le Marché de Noël Holiday Kitchen – France Pavilion
Feast on très magnifique fare, wine and specialty cocktails from the France Pavilion.
Mele Kalikimaka – Near Port Of Entry
Savor the flavor of fabulous, festive food and beverages from the islands of Hawa i'i.
Las Posadas Holiday Kitchen – Mexico Pavilion
Feliz Navidad—celebrate with mariachi dancing and south-of-the-border fare at the Mexican Pavilion!
Shi Wasu Holiday Kitchen – Japan Pavilion
Please your palate with an array of festive dishes and drinks served at the Japan Pavilion.
Tangierine Café: Flavors of the Medina – Morocco Pavilion
Travel to the Morocco Pavilion for delicious kebabs and cocktails.
Tuscany Holiday Kitchen – Italy Pavilion
Mangiare—savor a seasonal take on some of the world's best-loved food and beverages at the Italy Pavilion!
Yukon Holiday Kitchen – Canada Pavilion
Jingle your bells with delightful dishes and libations from the Great White North—at the Canada Pavilion.
Additional Locations
Funnel Cake – Between the American Adventure Pavilion
Satisfy your sweet tooth with a holiday classic: Pumpkin Pie Funnel Cake.
Joffrey's Coffee & Tea Company – Throughout EPCOT
Salute the season with the usual selection of coffees, plus a tasty holiday-themed treat!
Refreshment Outpost – Between the China and Germany Pavilions
Chow down on this year's holiday surprise: Coconut-Pineapple Cake with DOLE Whip. (Sorry, guess it's not a surprise now.)
Refreshment Port – Showcase Plaza
Savor the flavor of holiday poutine and toast the season with specials like Coquito Soft-serve, also available with Spiced Rum.
Chip and Dale's Christmas Tree Spree
This is a fun scavenger hunt that kids will love. You can pick up a map for $6.99 at most shops around Epcot. You will then search for special ornaments around The World Showcase. Once you find an ornament you put a sticker on your map. Once you find all of the special ornaments, you turn your map in at Disney Traders and you'll get a special treat.
Holiday Cookie Stroll
There will be Cookie Stroll booths available around the World Showcase where you can purchase cookies. For each cookie you try you'll get a stamp. Once you collect 5 stamps you'll get a free cookie and a glass of milk.
The Cookie Stroll locations for 2021 are:
Yukon Holiday Kitchen
SNICKERS®-Doodle Cookie made with SNICKERS® bar pieces
L'Chaim! Holiday Kitchen
Black and White Cookie
American Holiday Table
Chocolate Crinkle Cookie made with DOVE® Dark Chocolate
Bavaria Holiday Kitchen
Linzer Cookie
Holiday Hearth Desserts
Gingerbread Cookie
Holiday Storytellers
Typically the holiday storytellers are performers you'll find in each of the pavilions. They bring each country's traditional holiday to life by sharing holiday stories and performances.
Here is what you could expect at each country's pavilion in years past. This should give you an idea of what we might see in 2022:
Canada: Holiday Voyageurs sing seasonal songs
United Kingdom: Father Christmas shares holiday traditions
France: Pere Noel tells stories of children leaving out shoes for Christmas
Morocco: Hear about Moroccan festivals and traditions
Japan: Hear about Japanese New Year, O Shogatsu.
America: Hear the story of Kwanzaa and Hannukah and see Santa and Mrs. Claus
Italy: Hear the witch La Benafa tell the story of the Epiphany
Germany: Hear the origin story of the Nutcracker.
China: Dragon dancers perform and celebrate the New Year
Norway: Hear the srory of the gnome Julenissen
Mexico: Hear mariachi singers play festive holiday music
Ready to Book Your Holiday Trip?
We can help! Get your free Disney World vacation quote here.
Still Confused or Need Help?
I am happy to help! Contact me.
See you at the parks,
-Julie
Get Your Free Disney World Vacation Quote Today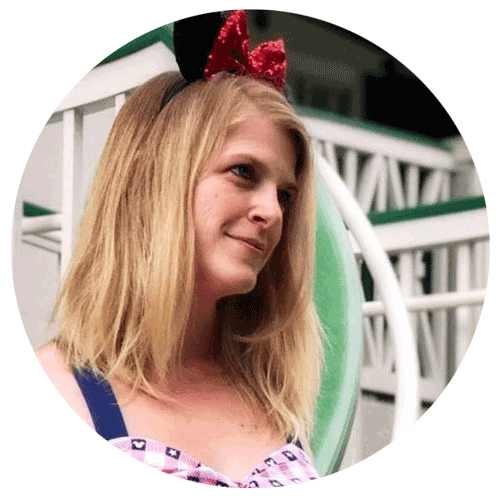 Are you ready to book your Disney World vacation?
We can book rooms, tickets, dining, and FastPass+, and even watch out for discounts that could save you thousands. All at no charge to you.
Request a Free Quote
Recommended for You