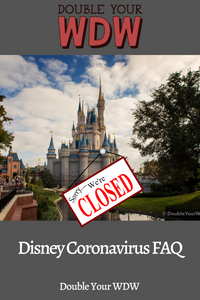 With all Disney Parks closing due to the Coronavirus, there has been a scramble by guests to figure out how to proceed with their Disney vacation plans.
Not only have Disneyland and Disney World closed to guests (Disneyland on March 14 and Disney World on March 16), but all parks around the World and Disney Cruises have been shut down as well.
Here are the most common questions I have been asked about Disney closures during this time.
What Happens to My Disney World Park Tickets?
If you have unexpired park tickets that have unused days with a start date ON OR BEFORE MARCH 31, 2020 your tickets will automatically be extended for use until December 15, 2020.
So even if you have used part of your ticket, and then had to cut your trip short, you can still use the remainder of your park tickets on or before December 15, 2020 when the park reopens.
If you cannot make it back to the parks before December 15, 2020 you can use the unused portion of your ticket towards the purchase of a new ticket for a later date.
Will My Annual Pass Be Extended?
Yes. If you have a Disney World annual pass, your pass will automatically be extended for however long the parks are closed. You will see the change in your My Disney Experience account over the next several weeks.
If your pass renewal window is happening during the closure, you will receive an extension to renew your annual pass.
If you are a Florida Resident who is making monthly payments on your annual pass, your payment schedule will continue as scheduled.
Currently any passholders with blockout dates will not have any changes to the blockout calendar.
What Happens to My Disney Resort Reservation?
Disney World resorts are remaining open at the time of this article, but any resort reservations that occur between March 16, 2020 through March 31, 2020 can be cancelled or changed with no penalty.
If you have a reservation during this time and do not cancel or show up, your reservation will be cancelled automatically. You will be refunded.
If you checked in to your resort online or on the app, you should call Disney to confirm that you are cancelling your reservation.
Note that any cancellation fees from third party suppliers (if you did not book directly through Disney) will not be refunded by Disney.
What If I Want to Cancel My Trip After March 31, 2020?
You can still cancel your trip by contacting Disney or your travel agent. Disney is waiving all cancellation and change fees for their resorts for reservations with a check in date on or before June 30, 2020.
What Happens to My Dining Reservations?
If you have a prepaid dining reservation during this window, you will be automatically refunded the amount of the reservation. No need to call to cancel.
All other reservations at Disney Parks Restaurants will be cancelled. There will be no "no-show" fees charged during the closure for reservations that are not cancelled.
What Happens to My Early Morning Magic / Villains After Hours / After Hours Tickets?
If you purchased tickets for any of these extra events, your reservation will be automatically cancelled, and you will be refunded in full for the tickets.
What About Disneyland?
Disneyland and Disney World are handling the closures differently.
Disneyland and California Adventure closed on March 14, 2020. The Disneyland Resort Hotels are remaining open through March 16, 2020 in order to give guests time to find alternative accommodations.
Reservations and tickets are not automatically being extended for guests. So if you have a trip planned to Disneyland, please call 714-520-5050 to work with a Cast Member on a refund or reschedule.
Disneyland Annual Passholders will have their annual passes extended due to the closure.
What About Disney Cruise Line?
Disney Cruise Line has cancelled all sailings through April 12, 2020. They have also offered to waive all change and cancellation fees for cruises that sail through May 31, 2020.
How Long Will the Parks Stay Closed? Will My April/May/June Trip Be Ok?
As of right now the parks are scheduled to remain closed through the month of March. But there really is no way of knowing if the parks will reopen on April 1.
Shanghai Disneyland has been closed since January, and Tokyo Disney has been closed since February. So realistically the parks could be closed in to April or even May.
Disney will asses the situation and open the parks when they are safe for guests and Cast Members.
In the meantime you can follow me on Facebook and Instagram for updates on the parks closures (and hopefully reopening dates). I am watching all of this closely and updating as we learn new information.
Until then... Everyone stay safe!
Ready to Book Your Vacation?
Get a free quote here!
Still Confused or Need Help?
I am happy to help! Contact me.
See you at the parks,
-Julie
Get Your Free Disney World Vacation Quote Today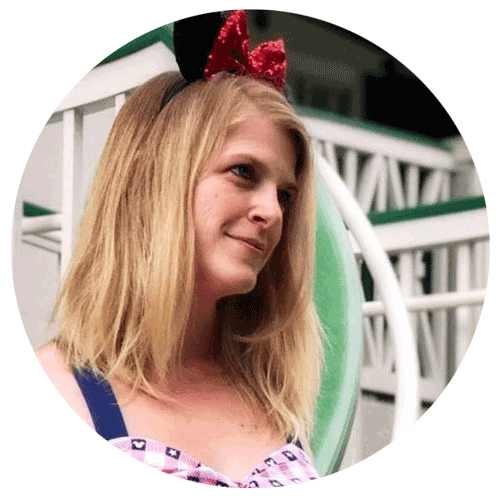 Are you ready to book your Disney World vacation?
We can book rooms, tickets, dining, and FastPass+, and even watch out for discounts that could save you thousands. All at no charge to you.
Request a Free Quote
Recommended for You