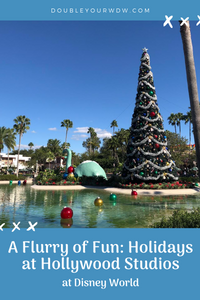 Magic Kingdom and Epcot aren't the only parks that go all out for the holiday season. Hollywood Studios has its own celebration, called A Flurry of Fun.
During this amazing time of year you'll find holiday decorations, character meets, entertainment, and food and drinks.
Holiday Decor
It wouldn't be the holiday season if there wasn't a ton of festive decor everywhere. Hollywood Studios does not disappoint in this arena.
Hollywood Studios really shines in its Old Hollywood Style with the holiday decor. You'll see classic decorations and music. The parks has its 1950s vibe on point for the holidays.
Even Gertie the Dinosaur is in on the fun.
Toy Story Land is also in on the fun. You'll find Woody at the entrance wrapped up in his holiday scarf. Rex has reindeer antlers, sugar cookie Pig looks festive (and delicious).
Check out the holiday decorations going up to get an idea of the fun you'll see in Toy Story Land.
Shows
There are two great nighttime shows at Hollywood Studios during the holidays.
Jingle Bell, Jingle Bam
This show runs from November 8 - January 5, 2020 every night at Hollywood Studios.
This show includes seasonal music, projections on the Chinese Theater, and lasers.
This show is a must see! It is incredibly fun, and also really popular. You'll want to get your spot early. You'll have the best view anywhere in front of the theater. You can also try to grab a spot on the main street just past the main entrance. However, viewing will be limited there.
If you are dying to see the show, but don't want to grab a spot an hour or so beforehand, you can also buy tickets to the Jingle Ball, Jingle Bam Dessert Party.
Prices vary by date, but you can expect to pay $79-$89 per adult and $45-$49 per child.
This extra party ticket will get you fun treats and drinks, and then a special VIP viewing area for the show.
Tickets can be purchased online.
Sunset Seasons Greetings
This show is great because there is no bad view of it. You are watching projections on the Hollywood Tower of Terror Hotel
The show is about 15 minutes long, but is run throughout the night. 
It starts with a video on the billboards along Sunset Boulevard, and is followed with projections on the Tower of Terror, laser effects, and "snow" on the tower.
Character Meet and Greets
Characters are always a fun and popular part of Disney World. But if you are at the parks during the holidays, you'll get the chance to meet characters in fun holiday attire. 
At Hollywood Studios you can expect to meet:
Santa Claus / Sunset Boulevard
Santa Goofy / Grand Avenue
Buzz Lightyear (in holiday attire) / Toy Story Land
Woody and Jessie (in holiday attire) / Toy Story Land
If you want to meet characters, it's important to note that Santa has a LOT of work to do on December 24. So Santa Goofy kindly takes over meeting kids on Sunset Boulevard so that the Big Man can deliver gifts.
You'll also want to double check the My Disney Experience app for exact meet times for characters on the days you are in the parks.
Food
If you are in it for the food (I know I am), you wont be disappointed. There are a TON of sweet holiday treats for you to enjoy:
ABC Commissary
Strawberry Mint Verrine
Mickey's Santa Hat Chocolate Mousse
Holiday Wreath Cookie
Winterberry Margarita
Pizzerizzo
Strawberry Mint Verrine
Winterberry Margarita
Baseline Tap House
Elsa's Magical Macarons
Gingerbread Cookies
Rosie's All-American Cafe
Goofy's Hot Chocolate, Not Hot Chocolate Verrine
Winterberry Margarita
Catalina Eddie's
Fairfax Fare
Olaf's Chocolate Marshmallow Verrine
Hot Cocoa Flight
Market
Elsa's Magical Macarons
Gingerbread Cookies
The Trolley Car Cafe
Prep and Landing Cupcake
Chocolate Chestnut Pinecone
Dockside Diner
Gingerbread Cookies
Hot Cocoa Flight
Woody's Lunchbox
Holiday Lunchbox Tart
Hot Cocoa Flight
Backlot Express
Chocolate Chestnut Pinecone
Holiday Blondie
Goofy's Hot Chocolate, Not Hot Chocolate Verrine
Outdoor Bars
Hollywood And Vine
At Hollywood and Vine restaurant you can enjoy Minnie's Holiday Dine. The Fab Five are decked out in holiday attire during this buffet meal.
You can make reservations for this holiday meal online.
Ready to Book Your Vacation?
Get a free quote here!
Still Confused or Need Help?
I am happy to help! Contact me.
See you at the parks,
-Julie
Get Your Free Disney World Vacation Quote Today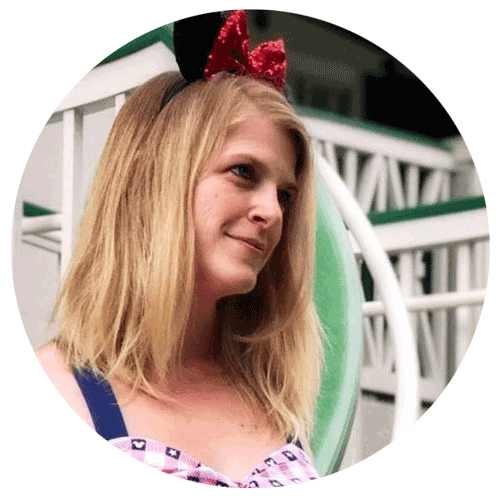 Are you ready to book your Disney World vacation?
We can book rooms, tickets, dining, and FastPass+, and even watch out for discounts that could save you thousands. All at no charge to you.
Request a Free Quote
Recommended for You