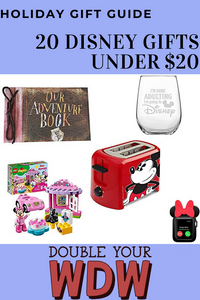 With the holidays right around the corner, you might be looking for some fun and amazing gifts for the Disney fan in your house.
Here is my guide for my top 20 Disney gifts under $20 for the holidays!
This adorable wine glass starts at only $15.98 and comes in several Disney designs. It's the perfect gift for the Disney adult in your life.
This adorable book (taken from Pixar's Up!) is an absolute steal at $15.99. It has blank pages that are perfect for a photo album, scrapbook, sketch pad, or whatever else you can dream. It also comes with movie postcards. A wonderful gift for the romantic in your life.
Confession time: I never drink enough water. No matter how hard I try. So I absolutely love water bottles that motivate you to track the water you drink. This bottle is Beauty and the Beast inspired and is marked so you know how much water you should be consuming throughout the day. Perfect for the fitness junky in your life... or for a person like me who just needs to drink more water!
I actually own this print and have it in my own office. It is one of the most complimented things at my house. I am always asked where I got it, and at just $13.99 on Amazon people can hardly believe it. It's a great gift for the Disney fan who really knows the parks.
If you love the idea of entertaining with a Disney twist, you'll want to check out this incredibly fun book of entertaining ideas and tips. This planning guide book will walk you through planning the perfect Disney themed event. Perfect for the host or hostess with a love of Disney. And only $14.94.
If your little Princess is a little scared of the dark, this projector is the perfect gift. At only $11.99 they can fall asleep with the comfort of their favorite Disney Princess every night.
This is the perfect gift for the Disney loving couple in your life. You get both of these Mickey and Minnie inspired aprons for only $19.99.
If you're looking for a fun way to show your Disney enthusiasm every day, this Minnie Mouse iWatch case for only $9.99 is a great way to do it. Perfect for the Disney fanatic who wants to show their love of the parks every day.
This toaster is not only a cute addition to your kitchen, but it actually toasts a Mickey Mouse silhouette right on to your bread. Perfect for the Disney fanatic who has it all, and for only $15.19.
Adult coloring books are such a fun way to relieve stress. This Disney coloring book comes in poster size and is $11.50. But there are several different options in books and size.
If cooking with your kids is something that you have always wanted to do but wasn't sure how to get them excited about cooking, this book is for you. This easy to follow cookbook has recipes inspired by your favorite Disney Princesses. It's the perfect gift for the budding chef at only $12.93.
Gift the gift of Disney magic every single day with this Disney daily calendar at only $7.19.
This elegant bookmark is perfect for the book worm in your life, and only costs $7.99.
For the tiny Disney fans, Lego Duplo has several very fun Disney sets. This Minnie Mouse set is only $15.99.
For the Disney planner in your life, Birnbaum's 2020 Disney World Vacation Guide is a must-have to get you excited and ready for your trip. It is only $12.59. (There is also a children's version available for younger planners for $10.59)
If you have a fan of The Nightmare Before Christmas, this shirt is available in multiple cuts and colors for only $19.99.
The newborn Disney fans can get an introduction to some of their favorite characters with this board book set for $11.68.
Your environmentally conscious friends and family will definitely appreciate this Winnie the Pooh reusable tote bag for just $6.
For the family that loves Disney, you can get them this Pictopia Disney Edition game for family game night fun. This game is $15.47.
For your young adult, get the Never Girls book series for $13.76.
Ready to Book Your Vacation?
Get a free quote here!
Still confused or need help?
I am happy to help! Contact me.
See you at the parks,
-Julie
Get Your Free Disney World Vacation Quote Today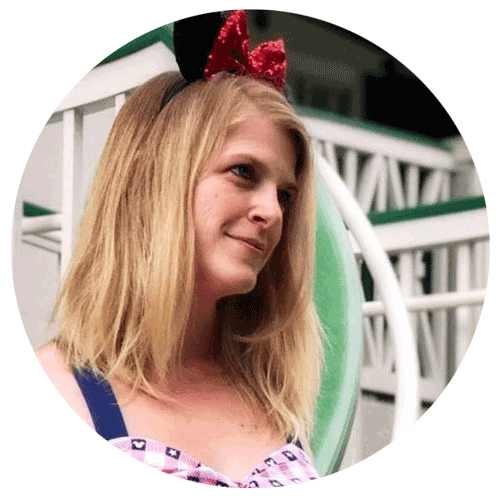 Are you ready to book your Disney World vacation?
We can book rooms, tickets, dining, and FastPass+, and even watch out for discounts that could save you thousands. All at no charge to you.
Request a Free Quote
Recommended for You