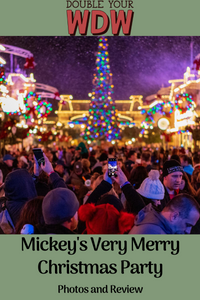 This year my family and I took a trip to Disney World to celebrate the Thanksgiving Holiday. As a fun treat for my husband, I used Disney's in-room babysitting service and took my husband to Mickey's Very Merry Christmas Party at the Magic Kingdom.
We attended the party on Tuesday December 3, 2019. We documented our time with photos as we went (my camera was a Canon EOS 6D Mark II Digital SLR and the lens was a Canon EF 24-70mm f/2.8L II USM Standard Zoom Lens).
Here is our evening in photos:
This party sold out about a week beforehand. I was definitely a little concerned about crowd levels. I had attended Mickey's Not So Scary Halloween Party back in August. That party was not sold out, but the crowds felt incredibly heavy. I was not sure what to expect.
Before arriving to the party I stopped to buy this white fleece spirit jersey that I had been eyeing our entire trip. The weather the evening of this party was just over 40 degrees.
I have been gushing about it ever since. It is literally the warmest thing I own, and I've been wearing it non-stop since flying back home to Chicago in the winter. You can buy it at Shopdisney here. I am not exaggerating when I say it is one of the BEST things I have ever purchased at the parks!
A Frozen Holiday Wish
We stopped to watch Elsa light up Cinderella's Castle in A Frozen Wish. It's a fun and magical performance featuring your favorite characters from the movie Frozen. The show is only a few minutes long, but it's incredibly cute and fun to watch. Elsa's movements are matched with projection mapping on the castle as she works her magic, and at the end of the show the Castle is covered in gorgeous lit icicles.
Magic Kingdom Rides
One priority for us was to hit rides with low wait times. We have three children, and our youngest is 2 years old. So it isn't very often that we actually get to ride on any rides together. So the first part of our evening was almost entirely rides.
Most of the rides were walk on, or wait times of ten minutes or less. The longest wait time was for Space Mountain at about 15 minutes. And the reason was that Space Mountain has Christmas lights and music playing during the party as a part of the holiday party ride overlays. It was well worth the wait.
Food
Next we wanted to find some food. While we had been stopping for our free cookies throughout the park, we wanted something more filling for dinner. We decided to mobile order from the My Disney Experience app at Pecos Bills.
I highly recommend mobile ordering any time you're at Disney World, but especially during the party. The lines for food were long. And when you have such a limited window to spend at the party, you shouldn't have to spend time waiting to order dinner. I placed our order as we were walking, and once we arrived our food was ready in less than 3 minutes (I timed it).
Their plant based burger was delicious and had a great amount of spice to it. We also had to splurge for the holiday treat offered at this location, Sven's Carrot Cake. It did not disappoint!
Mickey's Once Upon a Christmastime Parade
After we ate we were cutting it really close to the first parade time. Although Pecos Bills is in Adventureland (right at the beginning of the parade route), we wanted to be closer to Main Street or Cinderella's Castle for the parade.
Since we mobile ordered, we were able to eat quickly and make our way back to the Hub to find a spot for the parade.
The crowds for the first parade are always heavy, and this was no exception. But we were able to find a nice spot at the last minute close to Cinderella's Castle. While crowds were definitely present, we never felt overwhelmed by the people.
It is important to note that even though we had no issues finding a last minute spot for the parade, we were just two people. Had we had our kids, and especially a stroller, it definitely would have been more of a struggle.
Photos and Photopass Around the Park

Minnie's Wonderful Christmastime Fireworks Show and Snow on Main Street USA

 Again we were so wrapped up in having an amazing time at the party that we lost track of time and found ourselves running to the Hub to catch Minnie's Wonderful Christmastime Fireworks Show.
Because it was just the two of us we had no issues finding a last minute spot to watch the fireworks show (had we had our children and especially our stroller this would have been far more difficult).
We enjoyed the fireworks and projections on the castle followed by magical snow falling on to Main Street USA.
We stayed on Main Street to take photos and just take in the magic before heading out of Magic Kingdom.
Overall this was one of my favorite experiences at the parks.
Happy Holidays!
Ready to Book Your Vacation?
Get a free quote here!
Still confused or need help?
I am happy to help! Contact me.
See you at the parks,
-Julie
Get Your Free Disney World Vacation Quote Today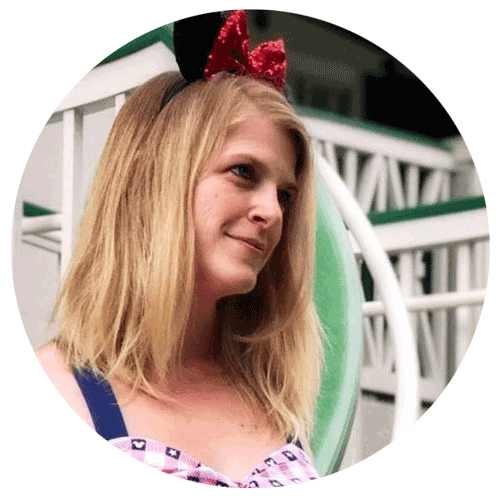 Are you ready to book your Disney World vacation?
We can book rooms, tickets, dining, and FastPass+, and even watch out for discounts that could save you thousands. All at no charge to you.
Request a Free Quote
Recommended for You