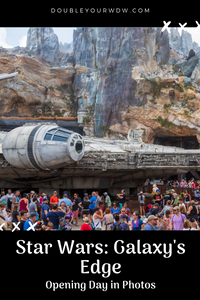 Star Wars: Galaxy's Edge in Hollywood Studios opened on August 29, 2019. I was lucky enough to be able to be there for opening day.
I arrived at the park bright and early, ready to explore this amazing new land. I documented my time with photos as I went (my camera was a Canon EOS 6D Mark II Digital SLR and the lens was a Canon EF 24-70mm f/2.8L II USM Standard Zoom Lens)
Here is Galaxy's Edge at Hollywood Studios on opening day in photos: 
I entered the land at about 9am on opening day. The crowds were heavy, and I felt overwhelmed at times, but the overall vibe of the crowds was extremely positive. Everyone was happy to be experiencing this new land.
The centerpiece of the land is obviously the Millenium Falcon. This lifesize replica of the famous ship is stunning in person. And it is home to the ride Millenium Falcon: Smugglers Run.
This ride is a motion simulated ride that has you as either the pilot, gunner, or engineer on the ship. You complete your role by pulling levers or pushing buttons in the ship so that you can complete your mission.
It's a ton of fun. The wait was about 3 hours when I was there in the morning. You can also opt for a single rider option. Just keep in mind that you'll miss the amazing animatronic in the ride queue if you do that.
After my ride on the Millenium Falcon (I was an engineer this time), I made my way over to Oga's Cantina. I had a reservation here that I didn't want to miss.
If you want to check out the Cantina I highly recommend grabbing a reservation. They do have a standby line to get in, but it fills up very quickly. So advanced reservations are the best way to make sure you see it.
Also keep in mind, they don't have a lot of food options. Just some light snacks. It's an actual cantina, so alcoholic drinks are what they will mostly be serving. It is 90% standing room, so if you have small kids keep all of this in mind. It will be loud, you will be standing, and there will be alcohol.
Since my kids didn't join me on this trip, I had an amazing time standing at the bar making friends with the people around me, and chatting with the bartender about how he's working at the cantina to pay off his debt to Oga (all Cast Members stay in character, so interacting with them is a ton of fun).
After my time in Oga's I walked around the land to just take it all in. The level of detail in this land is stunning. While I personally really enjoy the Star Wars movies, I don't necessarily think you need to be a Star Wars fan to appreciate everything that the Disney Imagineers have done here.
I took a break in the early afternoon. The crowds were high and so was the sun. So I decided to cool off a bit and rest before heading back to Galaxy's Edge in the evening.
The land is amazing during the day, but it is truly stunning at night. I arrived back in Batuu at dusk, and was able to see the building and star ships slowly light up as the sun set.
Seeing the land in the evening is a must if you love Star Wars, want to get amazing photographs, or simply want to enjoy the land with a little less heat and humidity.
I found there were not a ton of air conditioned hideaways in this land, so being able to come back when it was a little cooler out was nice. I also found that the crowds had lessened significantly (you'll notice fewer people in these photos).
While I am still coming up with a new touring plan outline for Hollywood Studios, I think it's safe to say that this land is best experienced either right at park opening, or later in the evening. These are the times you'll find the best temperatures and the lowest crowds (not to mention amazing lighting around the land). 
That was my entire opening day in photos, and it doesn't even begin to scratch the surface of everything there is to see and do in the land.
The gear I used was a Canon EOS 6D Mark II Digital SLR and the lens was a Canon EF 24-70mm f/2.8L II USM Standard Zoom Lens.
If you're interested in seeing the Galaxy's Edge for yourself, let us help you book your trip.
Ready to Book Your Vacation?
Get a free quote here!
Still confused or need help?
I am happy to help! Contact me.
See you at the parks,
-Julie
Get Your Free Disney World Vacation Quote Today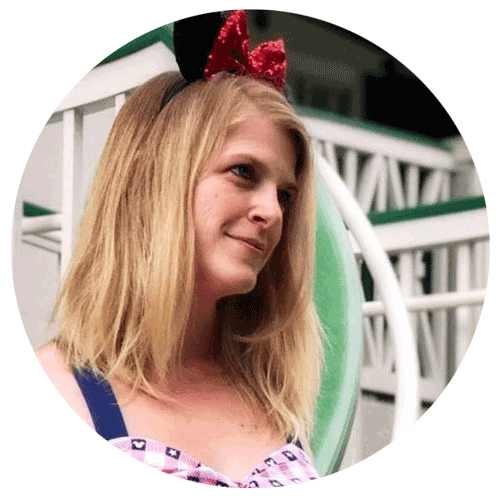 Are you ready to book your Disney World vacation?
We can book rooms, tickets, dining, and FastPass+, and even watch out for discounts that could save you thousands. All at no charge to you.
Request a Free Quote
Recommended for You