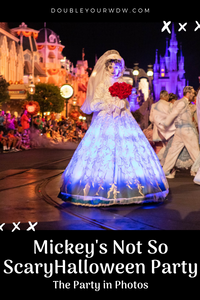 Mickey's Not So Scary Halloween Party is one of the most popular events that happens at Disney World. From characters and rides to shows and parades, there is so much to see and do at this party.
I attended the August 27, 2019 Mickey's Not So Scary Halloween Party. I arrived at the party at 4pm ready to have some fun, and documented my time with photos as I went (my camera was a Canon EOS 6D Mark II Digital SLR and the lens was a Canon EF 24-70mm f/2.8L II USM Standard Zoom Lens)
Here is Mickey's Not So Scary Halloween Party 2019 in photos:
My first stop was actually to visit Mickey and Minnie Mouse at the Town Square Theater. I wanted to see them in their birthday attire before they changed in to Halloween party attire.
I of course was dressed as a Mouseketeer.
 During the halloween party many of the rides have fun Halloween overlays. Space Mountain you'll ride in complete darkness. Monsters, Inc Laugh Floor has a Halloween theme, the Tea Cups have Halloween lighting and music.
But perhaps my favorite Halloween overlay is Pirates of the Caribbean. This ride has live actors in the queue and on the ride. It makes the ride incredibly fun and unique each time you ride.
Just walking around the park during this party is an experience in itself. Everything has a purple glow, and feels spooky and dark.
Aside from rides and amazing ambiance around the park, I decided to upgrade my party experience to include Cruella's Hideaway. This is an extra party ON TOP of the Halloween party. Cruella's Hideaway was held at Tony's Townsquare Restaurant, and included all you can eat food and drinks, as well as VIP viewing for the Boo To You Halloween Parade.
While I'm not so sure the party was worth the extra ticket cost, it was fun to meet Cruella and take advantage of all you can eat food and drink.
After taking a break at this party (and eating several delicious desserts) I decided to check out the wait to meet Jack Skellington and Sally. This meet and greet is only available during the Halloween party, and often has hours long waits.
Since Jack and Sally meet at Town Square Theater (right next door to Cruella's party), I decided to check the wait time. I was told by a cast member the wait was one hour. So I decided to go for it. About 40 minutes later I got to meet Jack and Sally! I found this to be really amazing, as I've heard stories of four hour waits just to meet them. So getting to the front of the line in less than one hour seemed too good to be true.
Jack and Sally were one of the best character interactions I have ever had. They spent a good amount of time with each guest, and stayed perfectly in character. Chatting with me about spiders and other creepy crawlies, I was beyond awkward. But I loved every minute of it.
In addition to the fun character meets, you can also do some really cool photos and magic shots at the Halloween party.
You'll find photographers all around the parks. Popular spots are in front of the castle, and in front of the Halloween pumpkin decor.
Magic shots are when the photographer adds a fun effect to your photos. These shots are not marked in any way, so you should ask your photographer if you are interested to see if they are able to add them. You can also check out the Disney Photopass Facebook page to see current magic shots.
Here are a few photopass opportunities at the parks during the Halloween party.
After all of the ride and character fun, it was time for the Boo to Your Parade. Since I had upgraded with the Cruella Hideaway party I had VIP viewing near the flagpool in front of the train station. It was an amazing place to watch the show. I was able to grab a spot facing the castle.
Before the start of the parade, the headless horseman made an appearance down Main Street USA. He was definitely a highlight.
Now it was time for the parade to start. In my opinion, this is the best parade that Disney does. The floats range from fun and whimsical to spooky and creepy. Here are my favorite shots from the parade.
Aladdin and Jasmine stop to have a moment during the parade.
Tinkerbell making her way down Main Street.
The Pirates of the Caribbean (including Captain Jack Sparrow) sail down Main Street USA.
Haunted Mansion float and dancers glide by. This includes the amazing spectral bride.
Not every float was scary or spooky. There were tons of fun characters and silly floats. Including classic characters like Chip and Dale, and some newer favorites like Ralph and Venellope.
The finale of the parade were the villains. And they do not disappoint.
That was my evening in photos, and it doesn't even begin to scratch the surface of everything I saw and did at the party. There are so many shows and dance parties and fun treats, that it's impossible to see it all!
The gear I used was a Canon EOS 6D Mark II Digital SLR and the lens was a Canon EF 24-70mm f/2.8L II USM Standard Zoom Lens.
If you're interested in seeing the Halloween party for yourself, let us help you book your trip.
Ready to Book Your Vacation?
Get a free quote here!
Still confused or need help?
I am happy to help! Contact me.
See you at the parks,
-Julie
Get Your Free Disney World Vacation Quote Today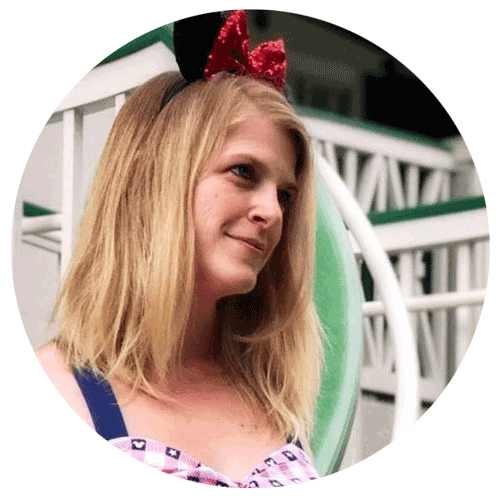 Are you ready to book your Disney World vacation?
We can book rooms, tickets, dining, and FastPass+, and even watch out for discounts that could save you thousands. All at no charge to you.
Request a Free Quote
Recommended for You