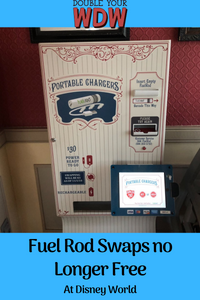 Fuel Rods were a great option for guests of Disney World who forget to pack an external charger, or simply don't realize how much you'll actually be using your phones at the parks.
You head to one of many kiosks at the parks, pay a one time fee of $30, and are given a small external battery (or Fuel Rod) and cable to charge your phone. Once the Fuel Rod dies, you could swap them out for free at any kiosk.
Unfortunately, new signage on the kiosks is now telling guests that beginning November 1, 2019 Fuel Rod swaps will cost $3.
So your new fee will be $30 up front for the Fuel Rod, and then $3 every time you need to change it out.
I recently bought my very first Fuel Rod at Disney World after forgetting my external charger. While they are incredibly convenient and easy to use, the Fuel Rods themselves do not hold much of a charge, and cannot fully charge your phone.
So this means that if your battery dies you'll be spending money on a Fuel Rod, you'll have to leave the Fuel Rod plugged in to your phone for the rest of the day (which causes the Fuel Rod to become really hot), and once it dies you will have no choice but to pay the $3 per swap (which in my experience was multiple times per day).
With this new upcharge for Fuel Rod swapping, I highly recommend you head to the parks with an external battery for your phone. I highly recommend this Anker Candy Bar charger (named for it's size). It costs less than a Fuel Rod, and can easily fit in your bag, pocket, or fanny pack.
Ready to Book Your Vacation?
Get a free quote here!
Still confused or need help?
I am happy to help! Contact me.
See you at the parks,
-Julie
Get Your Free Disney World Vacation Quote Today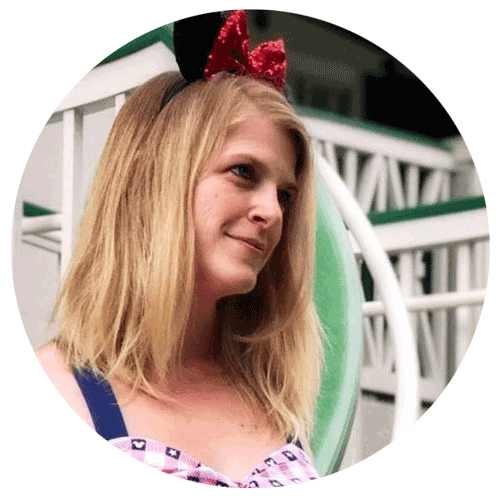 Are you ready to book your Disney World vacation?
We can book rooms, tickets, dining, and FastPass+, and even watch out for discounts that could save you thousands. All at no charge to you.
Request a Free Quote
Recommended for You