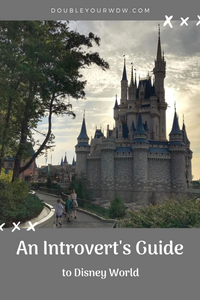 Confession time.
I am a total introvert.
For my entire childhood and a good part of my early adult life I had a hard time being around a lot of people. Talking to people I didn't know made me nervous and uncomfortable. Loud noises caused headaches (and often still do). Crowds made me uneasy.
As a child and young adult it never even occurred to me that I might be an introvert. As I became an adult and learned more about myself, I accepted the fact that I would never be the person who could walk in to a room with people I didn't know and strike up a conversation.
And that's ok! Because I learned ways to deal with those moments when I would rather be alone in bed. I figured out how to have fun even if I was going to be surrounded by crowds of people. I learned that I can enjoy places like Disney World, even as a total and complete introvert.
First Things First
There is nothing wrong with being an introvert. Not everyone is happy being out there all the time. And that's cool. But it's important to know your limits.
Before you head to Disney, understand where your limits are and know that it's ok to hit your limit and step away.
Travel with people who understand your needs. Let them know before your trip that you may need to step away at times. Preparing yourself and the people in your travel group is key.
How to Deal With Crowds
Disney is both the Most Magical Place on Earth, and also one of the most crowded places on Earth. Know there will always be crowds. Come to terms with the fact that you won't be able to completely avoid crowds. Mentally prepare yourself before your trip.
While you can never totally avoid people at Disney World, there are places you can step away at the parks. Quiet places around the park exist! You just have to know where to find them. Some of my favorites are:
Tom Sawyer Island at Magic Kingdom
The Railroad at Magic Kingdom
Liberty Square Riverboat at Magic Kingdom
Victoria Gardens at Epcot
Stop at Impressions De France or O' Canada in Epcot
One of the many trails in Animal Kingdom
The Voyage of The Little Mermaid at Hollywood Studios
Find them on a map before your trip so if you suddenly become overwhelmed you can step away.
When in doubt, just ask a Cast Member where a quiet spot is and they'll help you out.
Hit Less Crowded Rides
A simple way to avoid crowds is to simply hit some of the less crowded rides.
There are a good number of rides where you can get on quickly, sit, and take a moment. Find some of these less crowded (and often historic) rides for a quick break.
At the Magic Kingdom The Carousel of Progress and The Tomorrowland Transit Authority People Mover often have little to no wait. You can sit down for a good amount of time on both. You'll get to experience classic Disney World rides while being out of the crowds.
How to Deal With Other Sensitivities
For me noise level if a huge trigger for anxiety. It gives me headaches and makes me uncomfortable and want to retreat. If this sounds like you, you might want to consider bringing ear plugs or noise cancelling headphones. If you forget to bring yours, head to the first aid station.
If you are sensitive to light, make sure you have comfortable sunglasses on you. You may also want to bring a sun hat, or even a small umbrella that you can use to block out the sun.
How to Talk to Characters
Even just the thought of talking to characters can feel overwhelming.
Before I meet characters I like to think about the interactions ahead of time. Come up with some questions you might want to ask characters to take some of the pressure off. When my son (who is also an introvert) meets characters we come up with a list of fun questions in case he gets nervous. We talk about it in line or while we are eating at a character meal.
When we met Snow White, for example, we asked her about the Dwarfs. Where are they now? Which Dwarf was her favorite? Things like that made chatting easier, and took away some of the anxiety he felt while waiting to meet her.
If you don't have any questions, or aren't sure what to ask, know that the characters do a great job of doing the talking. Every face character I have ever met has been quick to just tell me stories about their adventures without any pressure for me to do much talking.
Or maybe you are more comfortable with characters like Mickey or Minnie. Since they aren't going to really be able to talk back, you can just say "hi" and pose for your photos and leave.
Think about what makes you comfortable. If you want to meet characters prepare yourself. If not, don't beat yourself up for skipping them altogether.
Know About Interactive Experiences at the Parks
There are several interactive experiences at the parks. I would consider an interactive experience one where Cast Members will get guests involved in one way or another.
Interactive experiences at the parks include:
50's Prime Time Cafe at Hollywood Studios
Monster's Inc, Laugh Floor at Magic Kingdom
Enchanted Tales With Belle at Magic Kingdom
Know that they wont force you to participate, but if you don't want to risk being put on the spot just avoid these spots all together.
Take a Break if You Need It
If you hit your limit it's ok to take a break. Build in time step away. That could mean many things:
Heading back to your resort for a few hours in the day
Taking a break day in the middle of your trip
Finding a quiet place at the park
Stopping for a sit down meal
The Bottom Line
It is entirely possible to have a blast at Disney World, even if you are an introvert! Just prepare yourself ahead of time by understanding crowds are inevitable, there are ways to take a break, and it's ok to stop if you hit your limit.
Ready to Book Your Vacation?
Even an introvert could use an amazing Disney World vacation! Get your free vacation quote here!
Still Confused or Need Help?
I am happy to help! Contact me.
See you at the parks,
-Julie
Get Your Free Disney World Vacation Quote Today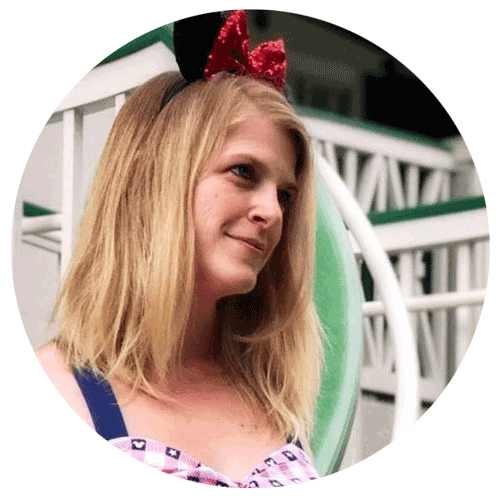 Are you ready to book your Disney World vacation?
We can book rooms, tickets, dining, and FastPass+, and even watch out for discounts that could save you thousands. All at no charge to you.
Request a Free Quote
Recommended for You