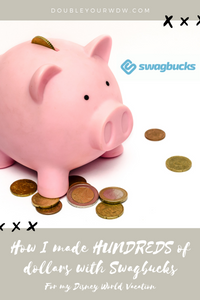 I have been writing about saving money for Disney for a long time. I have so many ways that I like to cut costs, find discounts, and work the system for a little extra Disney cash.
But every time I would talk about saving money people would ask me what I thought about Swagbucks. And honestly, it wasn't something that was really on my radar. In fact, the name alone had me questioning if it was legit.
But the buzz around this website was enough for me to check it out.
So I decided to try Swagbucks out. For one month exactly I used the website daily to answer a few questions: What exactly is Swagbucks and how does it work? How much can I really make in a month using it? Can I really pay for an entire Disney World trip? And more importantly... is it legitimate?
Here is what I found out (spoiler alert... I made some decent cash):
What Is Swagbucks and How Does it Work?
Swagbucks is a rewards program website where you do simple tasks to earn points. You can sign up here.
The points you earn can be cashed in for gift cards or even a PayPal transfer of cash.
Simply put, each point is valued at $0.01. So when you have 1000 Swagbucks points, you can cash it in for a $10 gift card.
There are a number of ways you can earn points:
Answer Surveys
This is my favorite way to earn Swagbucks. Various surveys are posted daily. Each one worth a different number of points. You simply click on the survey and answer a few questions. If you qualify for the full survey you will continue on and get the points immediately upon completion. If you don't qualify you will often still earn from one to five Swagbucks just for trying.
Shopping
Swagbucks offer a shopping referral program similar to places like ebates.com or mrrebates.com. 
You use their link to get to your favorite stores online, when you make a purchase you are rewarded with a percentage back rebate in the form of Swagbucks points.
For example, you can shop at Walmart.com (getting to the site through the Swagbucks link) and you'll automatically get 1% back on your order.
This can be a really easy way to earn Swagbucks if you were planning on placing an order online anyway. Swagbucks also will often offer extra cash back on certain stores or items. So if you know you have items you want to order online you may want to check the website for deals or rebate offers.
Watching Videos
Perhaps my least favorite way to earn Swagbucks, is watching videos. If you watch videos through the website or app you can earn points for every group of videos you watch.
The issue with this is that you often have to watch a minimum of 10 videos (a minute or two each, plus ads between) and you'll only earn one or two Swagbucks.
Search The Web
An easy way to earn Swagbucks without even thinking about it is to use their search tool.
Swagbucks has a search engine tool that is powered by Yahoo! Any time you are looking to search for something on the internet use that search engine, and get points.
Play Games
This is another one of my not so favorite ways to earn Swagbucks.
They offer several games that you can download to your phone to earn points. I have a few issues with this way of earning points. First, I don't play games on my phone (but I suppose that's more my problem than a problem with this method). Second, many of the games require you to pay for upgrades or put money on the game's account before you can be eligible to earn points.
Swago
This is basically Bingo for your Swagbucks earnings. You're given a board, and the boxes are filled with various ways to earn Swagbucks. As you complete them you mark off boxes. Once you get a certain pattern, you cash in your board for more Swagbucks. This is an easy way to get a few extra Swagbucks for doing everything you've already done above.
How Much Can You Really Make?
Can you really make money using Swagbucks?
Yes.
I decided to test Swagbucks out for exactly one month. I made a point to log on every single day for that month, and spend a good amount of time earning Swagbucks points.
I monitored my activity on the website and app. I was averaging one to two hours every day.
In a one month period I made $300.21.
Will everyone make that much money if they use Swagbucks? Maybe. Maybe not. I do work from home, which makes answering a 20 minute survey easier than someone who works outside of their home.
But even if you can only carve out a little bit of time each day, you can definitely make some extra cash.
I found I was often doing mindless things where I could easily do a quick survey or two. Things like:
Watching my toddler in the bath
Watching Netflix in the evening
While eating lunch
Whenever I was the passenger in the car
Even if you can only do one or two surveys per day, it still will add up to cash that you didn't have before.
And some of the surveys were actually incredibly interesting. Some examples of fun surveys I completed were:
Watching kids shows with my children and answering questions about them
Surveys on my shopping habits
Surveys about local news broadcasters
Surveys about radio stations and music I like
Watching a new sci-fi television show and answering questions about it
Surveys about my political views
While not every survey was terribly interesting, there were enough fun and amusing surveys that kept me coming back every day.
Is it Legit?
Yes!
Cashing out your points is easy. When you are ready to cash out your points you have your choice of gift cards to pick from. Or you can do a PayPal cash transfer if you'd just rather have the cash.
While there is no option for Disney gift cards through Swagbucks, you do have other options.
You can do a PayPal cash transfer once you have enough money to book your vacation. This is my preferred payout method. When you request the payout they tell you it will take up to 10 days, but I have found the money is in my PayPal account within just a couple of days.
While you can often get other store gift cards at a discount, most stores are cracking down on using any sort of gift card towards another gift card. So your safest bet is to get a PayPal transfer and get the cash. If you want, you can even use that cash to buy discounted gift cards elsewhere, and really stack your savings.
The Bottom Line?
Is signing up for Swagbucks worth it?
If you have the free time, it is 100% worth it. This is extra cash coming your way. It is done in your free time. It is done from home. And it is tax free.
Will you make a LOT of money doing this?
Probably not. Yes, I made several hundred dollars in one month on my free time. But could I keep up that pace forever? Probably not. At 1-2 hours per day, every day for one month, I am looking at an incredibly low hourly rate for my time. But again, you can do this whenever, and wherever. So it is 100% easy extra cash.
Will I continue doing it?
YES! I am making it my goal to pay for my next trip to Disney World. 
Sign Up For Swagbucks
Sign up and start earning here.
Ready to Book That Discounted Trip?
We can help you! Get your free vacation quote here (and pay with your Swagbucks earnings!).
Still Confused or Need Help?
I am happy to help! Contact me.
See you at the parks,
-Julie
Get Your Free Disney World Vacation Quote Today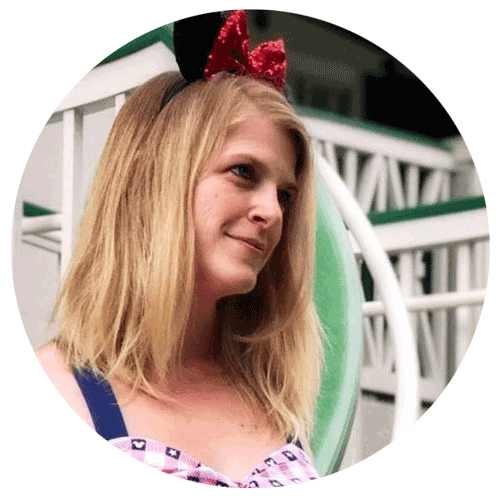 Are you ready to book your Disney World vacation?
We can book rooms, tickets, dining, and FastPass+, and even watch out for discounts that could save you thousands. All at no charge to you.
Request a Free Quote
Recommended for You