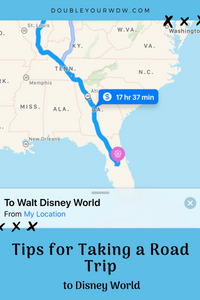 When I was a child we drove to Disney World every year. We'd pack up our wood panel station wagon and leave before sunrise to drive from Chicago to Orlando.
While I usually prefer to fly these days, there is something fun and adventurous about packing up the car and taking a road trip. I know my kids sure think so...
So what are the pros to driving instead of flying? What are some of the essentials I should pack? What can I do to keep my kids (and myself) busy on drive? Here I discuss all of those things and more so you can plan your drive to the most magical place on earth.
What are the Pros to Driving?
Financial Pros
Depending on where you live, driving to Disney World may be the best option for you. And there are definitely a lot of financial pros to taking your own car and driving.
Driving is often more cost effective, especially during the peak travel times when airfare is especially high. You can even use apps like GasBuddy to make sure that you are getting the best price on gas for your trip. I also suggest apps like Waze to help keep you out of traffic, and find the best route.
Taking a road trip to Disney World can also save you money on food. You'll be able to pack your own food and drinks for not only the car ride, but also for your trip if you so chose. Since Disney World allows you to bring food and drinks in to the parks, you have the option of packing food to save some serious cash.
Younger Child Pros
Traveling with younger kids can be... difficult. Babies and toddlers often have special needs. They might need a certain kind of milk or formula. They require certain bottles or cups. They might require baby or toddler specific foods.
And that doesn't even begin to cover the gear you need with smaller children. Portable cribs, carriers, strollers, and more.
When you travel in your car you can more easily transport these items. Not only will you not have to rely on rentals or resort cribs, but your child will be more comfortable because they are familiar with their own gear from home.
Teenager Pros
How often do you get one on one time with your teenager? This is a great opportunity to really talk to your teen. Let them sit up front for some of the drive, and enjoy time getting to know your teenager.
Other Pros
When driving you also give yourself more freedom. You aren't relying on Disney World transportation and waiting for buses. You can easily leave the Disney bubble if you are interested in visiting other parks. You can find less expensive restaurants that are outside of Disney. You aren't held to airline schedules on your arrival and departure dates. Basically you are giving yourself a lot more freedom and flexibility.
What Should I Pack?
When you decide to drive to Disney World you'll need to consider packing a little bit differently. Your packing list will probably include more than the usual Disney World gear. Some extras that you might want to consider packing:
Bottled Water
Change/Cash (make sure you have enough for various toll roads you will hit)
These are things that will help keep you organized, prepared, and comfortable. The first aid kit, jumper cables, and fix a flat are hopefully items that wont need. But it's better to be prepared before you hit the road.
A car organizer and trash bags will be a life saver for long trips. Give all of your items a home before you leave. This will help keep your sanity in check before you take off.
Keeping Kids Busy
Nothing is worse than the chant of "Are we there yet?" from the back seat. There are plenty of fun ways you can keep everyone busy and happy during the drive.
Car Games
Nothing says road trip quite like playing a few car games. You can see how many states you can find on the license plates you see on the road. A good game of I Spy is always a winner in my car. Or you could see how many different animals you spot on your trip.
There are endless road trip games you could play. Follow me on Pinterest to get even more ideas!
I have a Disney Road Trip board dedicated to fun travel games (because there are so many parents out there who are so much more creative than I am, and they have some great travel games.).
Stop Often
I'm all about making great time, but some times the best thing you can do is to stop and stretch your legs. 
This is especially true if your travel plans involve little kids.
Make sure your plans include time to stop and check out scenery, grab some food, bathroom breaks, and stopping to stretch your legs.
If you are looking for some fun places to stop along the way (either for the night or for a day stop), here are a few fun suggestions: 
When You Get to Disney
One of the best parts of having your own car is that you wont need to rely on Disney World transportation to get you around once you arrive.
But you will need to be familiar with the parking rates at Disney once you arrive.
If you are staying at a Disney World resort, you won't be charged for parking at the parks. But, you will be charged the following rates to park at your resort:
$13/night at Value resorts
$19/night at Moderate resorts
$24/night at Deluxe and DVC resorts
When you arrive at the entrance gate a Cast Member will scan your Magic Band.
If you are staying off-site you will be charged to park at the parks:
$25/day regular parking
$50/day preferred parking
The waterparks and Disney Springs both have free parking
All parking lots at the parks are themed so you can find your car later. I personally like to take a photo of the sign closest to me with my phone so that I can find my car later.
Parking spots that are farther away have trams that run every 5-10 minutes to take you closer to the park gates. At the end of the day be prepared with that photo of your parking spot. The tram drivers will call out the lot and row numbers so you know where to get off.
Parking at the Magic Kingdom is a little different than the other parks. When driving to the Magic Kingdom you actually will park at the Transportation and Ticket Center. From there you can take the monorail or ferry to the park. If you are going to drive to this park, I suggest you give yourself some extra time.
Bottom Line
Driving to Disney World can be an amazing adventure. Depending on where you are driving from, you can save some serious money. And if you are prepared before you leave, your entire family will have a blast the entire trip.
Drive safe!
Still confused or need help?
I am happy to help! Contact me.
Ready to book your trip and make the drive to Disney? Get your free vacation quote here.
See you at the parks,
-Julie
Get Your Free Disney World Vacation Quote Today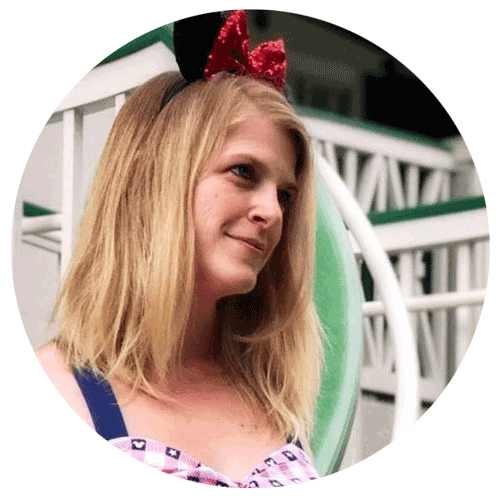 Are you ready to book your Disney World vacation?
We can book rooms, tickets, dining, and FastPass+, and even watch out for discounts that could save you thousands. All at no charge to you.
Request a Free Quote
Recommended for You